2019 has been yet another coontastic year with Negros selling their souls for pittance, throwing the culture under the bus and cape crusading  for white supremacy. This procyon lotor outbreak has gotten so bad that the lines have thoroughly been blurred between acceptable black behavior and gross violations of the culture. One of the bigger misnomers about Coons today are that they are self loathing individuals that hate the Black skin that they were born in. In actuality the opposite is true. They actually love themselves. They love themselves a bit too much. To the point of narcissism and if there is a tie that binds all persons making this list is the fact that their extreme narcissism and self serving ways precludes them from having the requisite self awareness to avoid promoting and propagating white supremacy. So with out further ado here are the top ten habitual offenders of 2019…
#10 Kimberly Klacic
I know you are like who is this bih? And normally I'd be on some "Harpo, who dis woman" type shit myself but home girl has a story to tell.  You see back in the day Kim Klacik used to be down with the blacks. So much so that she went to an HBCU (Bowie State). Everything was fine and dandy with the blacks until she came down with a case of alopecia and loss all of her hair. At that point (according to Kim) the blacks started being mean to her and when you are black and other blacks are mean to you, the only right response is to become a republican. At least that's the rational that Kim  used for voluntarily entering into the Sunken Place. But that's not what gets  her on the list this year. What got her on this list was her skillful use of the twitter app. By posting a few dumb words from her smart phone she was able to attract the attention of the reigning most powerful person in the world (allegedly). This alleged most powerful person in the world parlayed her dumb words into a cyber bullying/misinformation campaign  targeting the then chairman of the House Oversight committee the late Representative Elijah Cummings. Months later when Representative Cummings met his untimely demise this happened:
Yeah, ole girl is running for Elijah's vacated seat. Baltimore ya'll got one damn job in November of 2020. If you fail the whole damn city is making this list for 2020.
#9 SHAQUILLE O'NEAL
A brief recap: John Schnatter the now ousted CEO and founder of Papa John's (but still the majority stake holder) wadded into waters too deep for him to navigate, swim or even doggy peddle through while trying to ride the wave of white supremacist angst directed at Colin Kapernick and other NFL players for their on field protests of police brutality. He basically tried to the blame the lagging sales of his nasty ass pizza on NFL players. It did not land well at all. Even the racists gave him a side eye with that one. Jethro and them were like "dude, your pizza sucks ass". It ended up being a huge PR nightmare for him and the sales for his nasty ass product took an even bigger nose dive. He then did what any wealthy white proprietor of junk goods that heavily depend on the black dollar to turn a profit–he hired a PR firm to right his sinking ship. The PR firm that he hired set up a conference call with him and some of his board members to plot and plan how they can in the future avoid Papa John Schnatter from self destructing again and taking all of their profits with him. That did not go so well. On the call presumably to show his new found empathy for the blacks he recalled how much better things are for them today because they no longer get dragged through the streets on the back of good people's bumpers until they died (he did not call them good people but that's what he was thinking). Not to be outdone by himself he went on to say "even Colonel Sanders called blacks niggers" . At this point his board of directors had no choice but to save him (and their stock options) from himself and ousted him as the CEO.
With the companies public relations nightmare taking an Elm Street like turn the board decided that this was a job that only Super Man could fix and since Christoper Reeves is no longer around they hired Shaq-Fu  Shaqcoon to clean up the mess.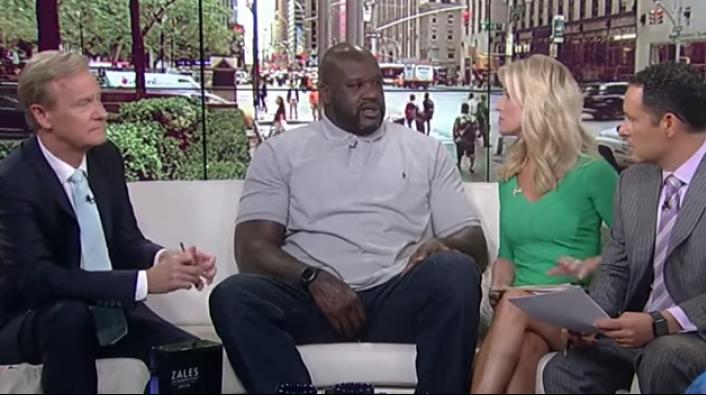 The self described Big Aristotle has an annual salary of around 60 million dollars with a net worth around 400 million. Having hit the DNA lottery at birth and parlaying it into a top 15 (at least) all time spot in the NBA, one would think that a man of Shaq's ilk would have little incentive to play clean up boy for the racist white proprietor. Much to the chagrin of black people that don't appreciate being referred to as niggers by white CEO's of a Pizza franchises that push pizza on the public that taste much more like the card board box that it's delivered in than actual pizza, our boy Shaq joined the board of Papa John's  to give its racist founder the cover he sought so that he could keep slinging that dirty dough in the hood. To add insult to injury he signed on to bring that nasty ass shit to HBCU campuses across the nation. In a normal year that alone would make him King Koon for the year. Sigh…this is not a normal year…
#8 The ADOS/FBA movement
ADOS (African decedents of slavery) and FBA (foundational black Americans) are two nascent movements centered around organizing the progeny of America's former African slaves to procure reparations and to organize politically. On the surface it sounds rather innocuous and even laudable. That is until the leaders start talking. When you cut through the fast talk and circular logic the net result of their political action is white supremacy in black face. Their talking points are replete with  natavism, xenophobia and anti-immigration sentiments. At times it's hard to distinguish MAGA speak from ADOS speak. In fact there's even some MAGAites pushing ADOS. 
When Ann Coultergiest is shouting your organization out on Twitter, it's safe to say your organization is on that bullshit. Worse than that, an intra-squad beef erupted between team ADOS and team FBA.  Long story short, ADOS was co-founded by lawyer and Youtube personality Antonio Moore and former Democratic strategist Yvette Carnell.  In comes "filmmaker" and author of self help books (for pimps) Tariq Nasheed.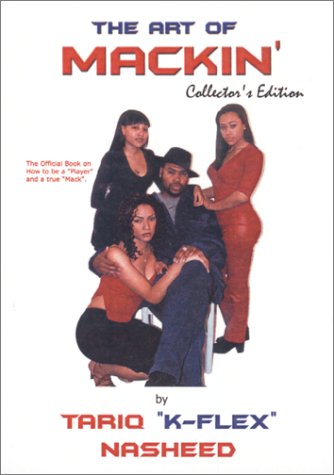 Tariq had been shouting out ADOS giving them positive press so they in turn started to embrace him so as to get more of his followers into the ADOS fold–because everyone knows a movement is not a movement devoid a bunch of simple niggas skilled in the art of mackin broken women. ADOS leadership has this thing called "staying in code" which is basically code word for not saying or doing something super lame to embarrass their already super lame  movement. Staying on code for the most part meant to not make the obvious any more obvious than it was.  Tariq being Tariq took things a bit to far with this errant tweet: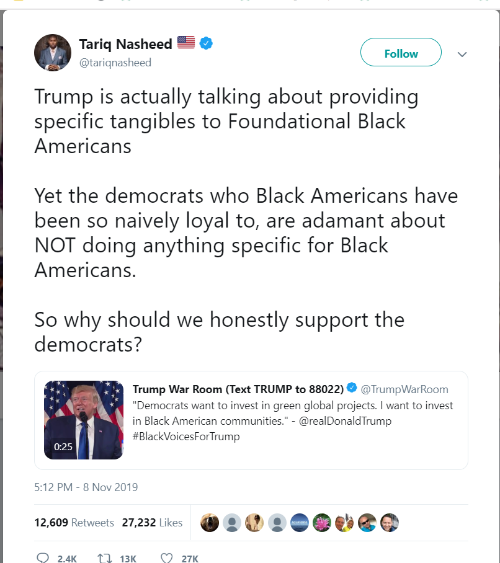 Antonio Moore and Yvette Carnell took obvious umbrage because Tariq confirmed the greatest fears of the movements biggest detractors and that is the fact that the ADOS movement is one of the black arms of America's white supremacist movement with the express purpose of suppressing the black electorate so that the current white supremacist commander and chief could win a second term. They followed his tweet with a tweet trying correct his faux pas, Tariq up'd the ante by doing what he does best and made a diss video while also creating his own million minion movement (FBA). Yvette followed up with a video of her own and from there #ADOSvsFBA became the funniest thing trending on Twitter. 
And while it's all fun and games watching stupid people bicker over stupid shit what these people are doing really is self defeating and in the long run dilutes the power of black people and the power of the black vote. At a time in human history when global white supremacy is on the rise and these KKKrackers are taking their white nationalistic ideals international and  strengthening their global ties with like minds across the globe, we are hustling backwards by taking an opposite approach by erecting false dichotomies among the worlds majority people.
I will leave this one last message for my misguided brothers and sisters that think it prudent to follow these ADOS/FBA bammas. Your African blood is thicker than the white man's American borders. Get your heads right. 
I'm gonna leave ya'll with this too:
#7 Stephen A Smith
Stephen A Smith has been cooning under the radar for a while now. He's made the top ten at least once or twice in the past decade. What makes him kind of dangerous is the fact that at times he will get it right and use his position in media responsibly and advocate for Black people as opposed to being the masters mouth piece. Then there are other times…
Earlier this year Smith secured the bag. He signed a contract extension for 10 million dollars annually. Now I was not hating but I did wonder aloud how the fuck this loud mouth ass three point perimeter hairline having ass dude was get that kind of dough. I wondered that until of course the NFL tried to play Colin Kapernick for Boo Boo The Fool. It then became quite clear. With the NFL being his networks biggest client at least part of that 10 million dollar salary was earmarked for the tap dance for Massa routine that he pulled in the wake of Colin Kapernick not allowing himself to be played by Roger and nem. 
Before Kap's team sniffed out and made public the shady language in the waiver that he was to sign before being allowed to show case his talents in front of a bunch of NFL scouts that were already well aware of what he could do, it was understandable that some in the media (mainstream and social)  would blame Colin for the fiasco that his NFL work morphed into. Stephen A was one of the loudest voices of rebuke of Colin. After more information came out (information that Smith was already privy to) it became obvious that the league was trying to put Kapernick in a trick bag. Smith even tacitly acknowledged this in one of his myriad diatribes on the matter. Yet he still clung to the company line and blamed the victim. His on air counter part who happens to be white (Max Kellerman) was a bit more insightful and intellectually honest about what was going and they went back and forth over the issue for the next week. They brought Terrell Owens on the set because like most black people he voiced displeasure with how Stephen A Hairline was reporting the story. TO always being good for at least one memorable sound bite did not disappoint the diaspora. Son told Smith that Kellerman sounded blacker than him. That shit really hit a nerve. While that was a basic fact that most observers knew already, the reaction from Smith was priceless. Nigga damn near had a baby on set and now forever lives in coon infamy. As he should.
#6 Isaiah Washington
This dude ain't been right ever since he got fired for beating up that gay dude on Shonada's set. He has since that time come out of the closet as a card carrying Black MAGA who routinely gets into Twitter spats with sisters much smarter than him. But like most Coons his ignorance is only outmatched by his arrogance so he regularly gets his ass handed to him in the Twittersphere:
#5 Tim Scott
There really is nothing to see here. Tim Scott for probably his entire adult life has been a "One Black". What's a one Black you ask? Thanks for asking. A One Black is  that one black friend, one black neighbor, and/or one black colleague that's so comfortable in the alabaster spaces they dwell they will do almost anything to maintain the extreme minority  position in the given construct. Nothing great or even good is ever expected from a One Black so it would be foolish to expect anything from Tim Scott. Now that Obama is no longer the president, Tim Scott for the most part is the most powerful black man in America and as such we'd be remiss not include him on this list because he continues to play a major role in codifying the white supremacist ideals pushed by the wicked white men that he surrounds himself with. If this was not such a high tide in coonery a black man with his power so willingly able to acquiesce to the white supremacist demands of his constituents would be closer to the number one spot. And if this list was the top ten coons of the decade as opposed to the top ten of 2019 he'd definitely be ranked closer to the number one spot because he's been carrying the Tiki torch of white supremacy in the US Senate since 2013.
#4 Ben Carson
Uncle Ben is another top ten coon mainstay and like Tim Scott  would be much closer to the number one spot if this was the all decade team. Him coming in at number 7 for 2019 should not be seen as him having a less coonish year. It's simply that 2019 had so many vying to be the head coon in charge that Ben's maladjusted slow thinking slow speaking ass was too unwitting to compete with this years crowded crop of coons. No worries though–he will be back next year. I'm certain of that much.
# 3 Jason Whitlock
Jason Whitlock has never met a free black man that he did not hate. From Lebron James to Colin Kapernick he has a serious beef with any black man that has an semblance of awareness. He has a job as as a sports journalist despite not being a good writer, not knowing much about sports, and not having an athletic bone in his bloated body. His sole purpose in American media is to make couch potatoes that sport MAGA hats feel like they are greater than the great black athletes denigrated daily by dip shits like himself.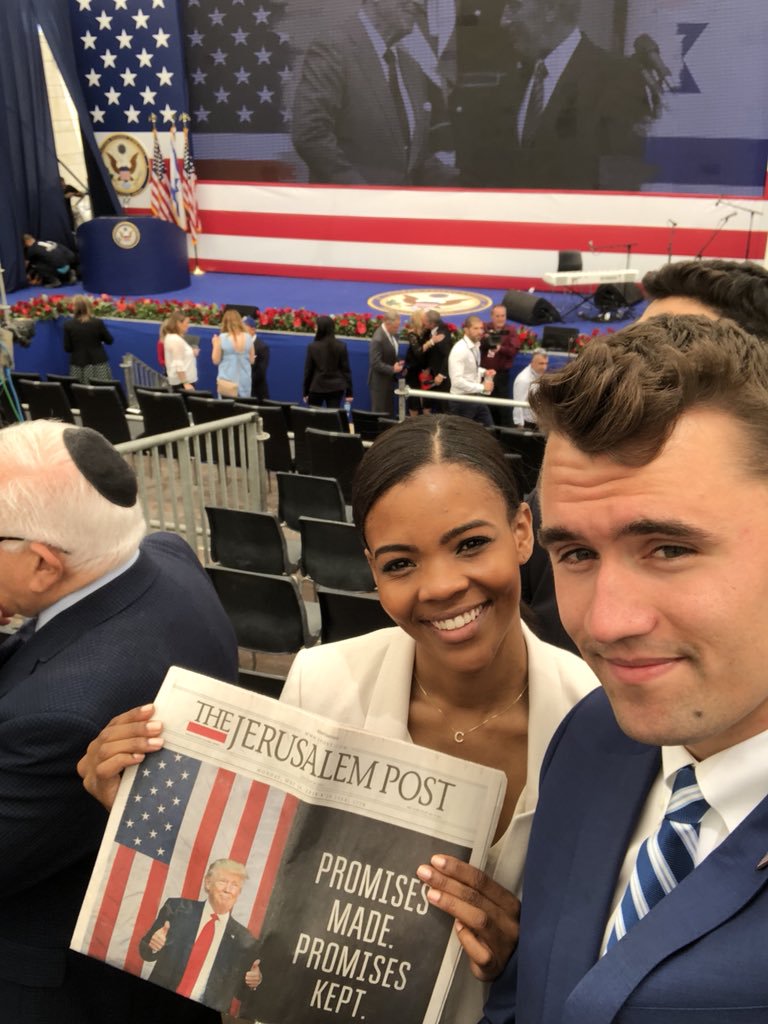 #2 Candace Owens
What is there to say about this chick that you already don't know. She's the black female face of the MAGA movement, all 3 percent of them heffers. Like the coon before her on this list her existence in the public space is solely for the purpose of giving racist whites as much cover as they need to continue being the racist degenerate pieces of shit that they have been since 1619. Her relevance while waning was significant to the white supremacist movement. She has propagated enough propaganda over the last few years to infect the minds of some of the more malleable and maladjusted in our community.
Candace Owens while dumber than a door knob is dangerously deceptive. While its easy for those of us with an IQ over 50 to dismiss this foolish woman and her foolish chatter–the young, dumb and aloof among us are far less able to abate the specious messaging.
#1 Kanye Kardashian West
Before I get started on this stupid nigger (he gets the er iteration because that's what they call his dumb ass when he leaves the klan meet ups) let me quickly respond to those who will be quick to claim that I'm hating.
You god damn right I hate that nigga. I hate that nigga so much that I'm starting to hate you niggas that are not smart enough to know that Kanye hates you. Kanye unfortunately has an undue and out sized influence on the culture (he almost single handily made skinny jeans with big ass stupid look sneakers cool) and he's using it in the most reckless and selfish manner. In a day and time where white supremacist propaganda is being incessantly spewed daily and from the highest office in the land, instead of using his perch and influence to combat the propaganda, like the self absorbed coward that he's become he cosigned and doubled down on the dumb shit. His disrespect for our ancestors while giving props to our oppressors is an unforgivable act of betrayal of the people and the culture. What is there not to hate about the fuck shit that this fuck boy has been on?
Kanye more than anyone else on this list exemplifies the kind of narcissistic self-idolatry that the current occupant of the white house routinely displays and is seemingly making acceptable behavior. Moreover he's bastardizing the culture by lending his name in the name of the culture to white supremacy. That's not hip-hop. Hip hop in it's purest and primordial form is and always will be a rebellious form of expression. It is FUBU. For us by us! It is not a tool to be used by the oligarchs to maintain and spread their empire. That does not mean that every artist should be a KRS-One or a Poor Righteous Teachers, but does mean NO artist should ever be an avatar for white patriarchal power. For the last few years that is the dominant role that Kanye has played. A loud and proud mascot for team White Supremacy. You lame asses that continue to support this bitch ass dudes wayward behavior by buying them ugly ass shoes, streaming his whack ass negro spiritual remakes and attending his plantation style Sunday services are utterly worthless because you are encouraging this foolish fuckery and it's no longer funny or entertaining. The shit is sick. He is not well and neither are you.